SCBA Options
Upgrade options listed below are available for your SCBA.
AV-2000 Facepiece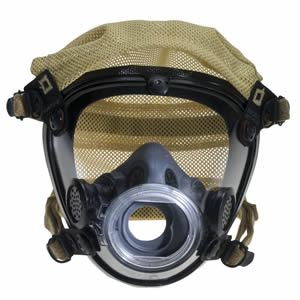 The AV-2000 is lightweight and comfortable, and comes in multiple sizes and head harness options for wide user
acceptance and fit. Totally interchangeable with Scott's full line of air-supplied, air-purifying and communications products.
AV-3000 Facepiece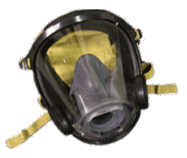 The AV-3000 offers improved downward and peripheral vision as well as enhanced clarity of voice communication through larger dual voicemitters. Tested and meets the requirements of CBRN standards.
Buddy Breather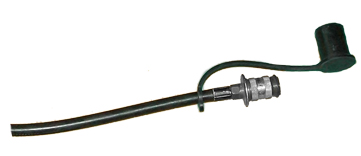 Buddy Breather, this useful addition to your SCBA allows two people wearing SCBA's to breathe from the same cylinder in the event of an emergency situation. See Also, Extended Duration Air Line.
Cylinders (Scott)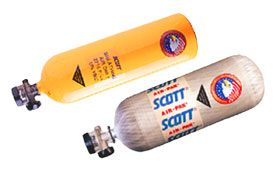 Aluminum Cylinders: Scott's Aluminum cylinders are built around the DOT specifications and with working pressure of 2216 psi. These cylinders are rated for 30 minutes in duration and have free gas capacity of 45 SCF. Hydrostatic testing is to be performed every 3 years with an unlimited life expectancy. Carbon Fiber Cylinders: Scott's Carbon cylinders are built around DOT specifications and have a working pressure of 2216, 3000, or 4500 psig. These cylinders are lightweight, composite cylinders consisting of an aluminum alloy inner shell, with a total over wrap of carbon fiber, fiberglass and an epoxy resin. They are rated for 30, 45, or 60, minutes in duration. These variations are available: 30 min (2216 psi), 30 min (4500 psi), 45 min (4500 psi) and 60 min (4500 psi).
Dual EBSS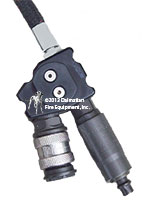 SCBA's can be equipped with a new or used dual EBSS / airline connection. This option provides the wearer the ability to connect to another user without having to disconnect the regulator supply hose. It also allows the wearer to be connected to a remote air source, which may be up to 300 feet away.
Extended Duration Airline (Buddy Breather)
SCBA's can be equipped with an airline connection. This option allows the wearer to be connected to a remote air source, which may be up to 300 feet away.
EZ Flo II Regulator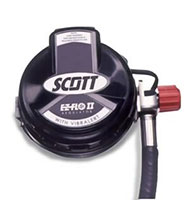 The E-Z Flo regulator is a pressure demand system that out performs all other SCBA regulators in performance and simplicity. While maintaining a slightly positive pressure in the facepiece, the E-Z Flo delivers as much as 160 LPM when compared to the NFPA minimum of 100 LPM. It is capable of a peak flow of 500 LPM. The superior performance is based on a design that significantly reduces inhalation and exhalation resistance to minimize user fatigue.
Heads Up Display

An attachment to air packs meeting 2002 compliance. Heads Up Display (HUD) provides LED lights in a module outside of the mask that provides information about the cylinder's remaining air.
Pak Alert SE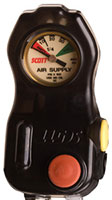 The Pak-Alert SE is a distress alarm system designed for use on the Air-Pak 50. It will notify rescuers and other firefighters both audibly and visually. The Pak-Alert SE includes: Automatic activation, Louder pre-alarm volume, Ease of installation, Battery check feature, Audible deactivation tone, Manual activation, Increased battery life, Two Alkaline 9V batteries provide 1000 hours of use or Two Ultralife lithium 9V batteries for 2000 hours of use.
Quick Charge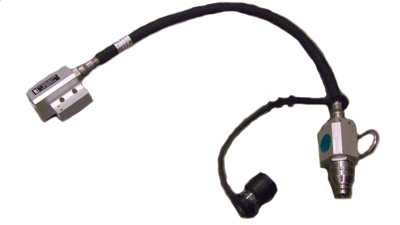 This system gives SCBA users in emergency situations a fast, easy way of refilling their cylinders without removing them from the back frame. Available on 2216, 3000, and 4500 psi models.
Supplied Air Connection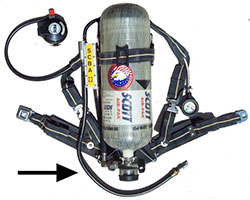 Supplied Air Connection provides the option of connecting to an air source outside a contaminated area via an airline. These respirators are used in atmospheres deemed IDLH or Immediately Dangerous to Life or Health.
Voice Amplifier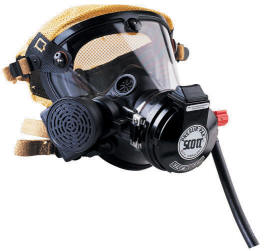 Designed to promote stronger person-to-person communications. Powered by a single 9-volt battery. Up to 20 hours of continuous operation without a single battery change. Lightweight, weighing only 5.9 oz with battery. Can be mounted to all existing AV-2000 and AV-3000 face pieces with a simple 1/4turn universal mounting bracket.
RIC / UAC Connection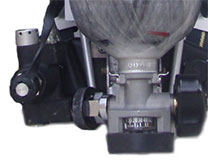 Scott's Rapid Intervention Crew/Universal Air Connection (RIC/UAC) is strategically located, and with relief valve and dust cover, the RIC/UAC allows air to be supplied to a downed or trapped firefighter by either a Scott RIT-Pak II or another compressed air source.
Clip-On PASS Device
Personal Alert Safety System (PASS). With numerous varieties, choose from Detex PAL 5+, Lifeguard, Surpass etc. Clip-on PASS Alarms. They monitor the activity of a firefighter and alarms when activity stops indicating a possible dangerous situation. Can be manually activated for situations where danger is anticipated.
Scott SCBA Hard Case

Black molded high-density polyethylene cases are ideal for carrying and storing Air-Pak Fifty SCBA's. Cases have a two-piece hinge and replaceable latches.
Ultravue Facepiece
MSA offers this mask in three sizes SMALL, MEDIUM, and LARGE. The Ultravue face piece offers wrap around design, engineered to fit close to the wearer's eyes for minimal visual distortion.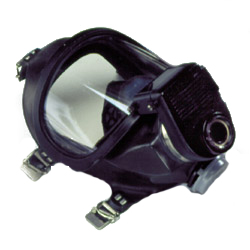 Ultra Elite Facepiece
MSA offers you the choice of three sizes SMALL, MEDIUM, and LARGE. The Ultra Elite face piece design provides exceptional peripheral and downward vision, enhanced communication capabilities and comfort. Features include: ¼ turn, Push to Connect (PTC) and Slide to Connect (STC).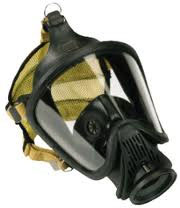 Clear Command Voice Amplifier
MSA's Clear Command Communications System for Ultra Elite face pieces is designed specifically to meet the modern communications needs of firefighters. The Clear Command System is available in two versions: amplifier and amplifier with radio interface so firefighting teams can be properly fitted for the job at hand. To help reduce unnecessary equipment expense, the design allows for shared use of the amplifier, so that individual issue is not required. In addition, the amplifier is water-resistant, removable and transferable.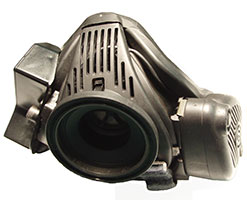 Cylinders (MSA)
Aluminum Cylinders: Aluminum Cylinders: 3AL Cylinder: Less expensive than MSA's hoop-wound cylinder. 30-minute-low-pressure cylinder, light weight (approximately 18 pounds). The 3AL Cylinder also offers an indefinite service life.
Carbon Fiber Cylinders: With the high-pressure Air Masks, you can choose from the 4500 psi Carbon-Wrapped Cylinders with 3 air supply durations: H-30, H-45, H-45LP (low profile) or H-60 Cylinder, which provide a 30, 45 or 60 minute air supply respectively. Low pressure air masks are suitable for use with the L-30 Cylinder, a 2216 psi cylinder rated for 30 minutes. Or, use the L-30+, a 30-minute-rated cylinder pressurized to 3000 psi.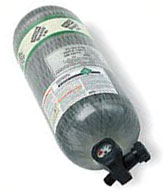 DragonFly Integrated PASS
Integrated directly into an MSA SCBA, the low-profile DragonFly IP PASS automatically activates when an MSA Air Mask cylinder valve is opened. Because the pressure switch and electronics are housed within the PASS, assembly is as easy as changing a pressure gauge.
DragonFly Stand Alone PASS
The stand-alone DragonFly SA PASS features a tethered key design to be attached to a jump seat, locker, or vehicle interior. When a user jumps to action, the key snaps off and the DragonFly SA PASS activates. Once the job is complete, the stand-alone PASS can be turned off by simply replacing the key and pressing reset twice.
Dual Purpose Connection
The Dual Purpose Connection on a self-contained breathing apparatus allows for a second air source as a supplied-air respirator utilizing a supply of air from a stationary cylinder or compressor.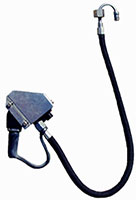 FireHawk Regulator Upgrade
The FireHawk design requires no tools, adhesives, or sealants, and has approximately 79% fewer parts as compared to other regulators on the market. Additionally, there are no internal adjustments required. Any adjustments to the regulator may be accomplished at a single adjustment point through the outlet port of the regulator. Upgrade your ¼ turn regulator today. Although regulators are shared among users, harmful pathogens (SARS, hepatitis, flu virus) may reside within each individually-issued face piece. Perhaps your dept. should consider personal use face pieces and regulators today!

ICM Tx Integrated PASS and HUD Transmitter
MSA's ICM TX Integrated PASS combines the safety features of the ICM 2000 Plus with the functionality of the Heads Up Display (HUD) transmitter in a single component on the Air Mask. Firefighters benefit from a more compact and lighter weight design.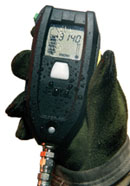 ICM 2000 / ICM 2000 Plus
The ICM 2000 Plus unit is an all-in-one combination PASS and redundant alarm with a built-in computer system that digitally displays SCBA performance information. The ICM 2000 Plus also offers a data logging and data downloading capability to retrieve up to 30 hours of SCBA usage information. The data provides information about the time of use, air consumption rate, ambient temperature, and alarm activation. Through the device's IR (infrared) port, the data can be downloaded onto a personal computer for future evaluation.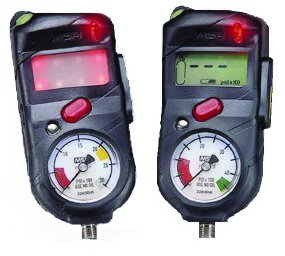 MSA RIC / UAC Connection
The Rapid Intervention Crew/Universal Air Connection provides a standard connection that allows a rescue breathing air supply to be connected to another SCBA to replenish the breathing air in the SCBA breathing air cylinder.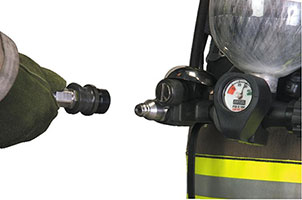 MSA SCBA Hard Case
For protection of composite cylinders, protective cover of non-flammable material. Transport case for SCBA with room for the complete apparatus.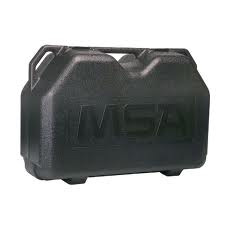 ADAM Digital Pressure Gauge
ADAM is the first SCBA digital gauge/electronic alarm. ADAM features a digital pressure reading in psig accurate to plus or minus 1½%, a bar graph showing incremental decreases in pressure, air time remaining in minutes, and remaining battery life.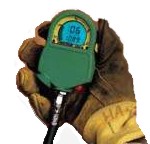 SmallTalk Plus Voice Amplifier
For clear communication under demanding conditions, Survivair offers the SmallTalk Plus, a compact, mask-mounted voice amplifier for the Survivair TwentyTwenty Plus facepiece. Designed for industrial and firefighting applications.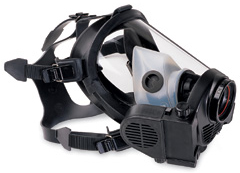 Survivair Heads Up Display
This Heads Up Display (HUD) continuously displays and is easily seen by the user at all times without requiring manual override. The External low air visual alarm alerts others to user's 25% and 10% low air alarm status.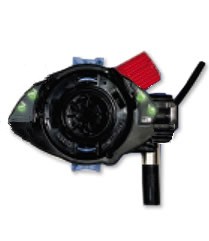 Survivair Buddy Breather
Survivair's Over-the-Shoulder Buddy Breather gives users the ability to share air with a "buddy" without having to disconnect the second stage regulator. It utilizes a two-step, push-pull, female quick-disconnect fitting designed to prevent accidental release.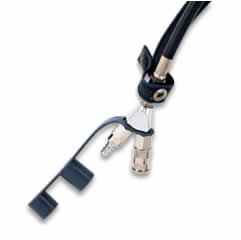 Supplied Air Attachment
This attachment enables Survivair SCBAs to utilize supplied air sources easily and conveniently when mounted onto the buddy breathing adapter block. The SCBA may be worn as a self-contained breathing apparatus for fire fighting or for industrial applications as an airline respirator when used with optional supplied air attachment.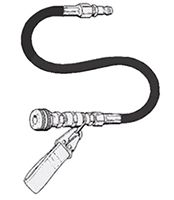 Compass Integrated PASS Device
Survivair's first fully integrated PASS Device, the Compass, is rugged, lightweight and compact. The device is automatically activated when the SCBA is turned on.

Survivair RIC / UAC
The Rapid Intervention Crew/Company (RIC) Universal Air Connection (UAC) provides a fitting to enable quick cylinder filling for rapid intervention.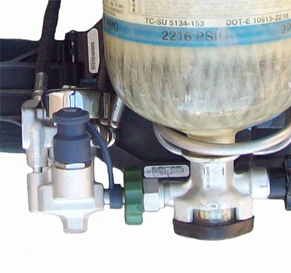 Interspiro Buddy Breather
The S Series may be equipped with an extra air Y connector hose assembly which can be removed from a pouch to connect two S Series SCBAs together for buddy breathing.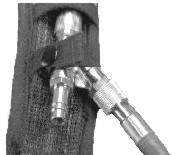 Interspiro Heads Up Display (HUD)
The effective lights in the Heads-Up Display show instantly the status of your equipment. Whether dark smoke or bright daylight, the lights adapt to the conditions. You know you're getting the hands-free solution you need when it counts. You can concentrate on saving lives and property during your mission.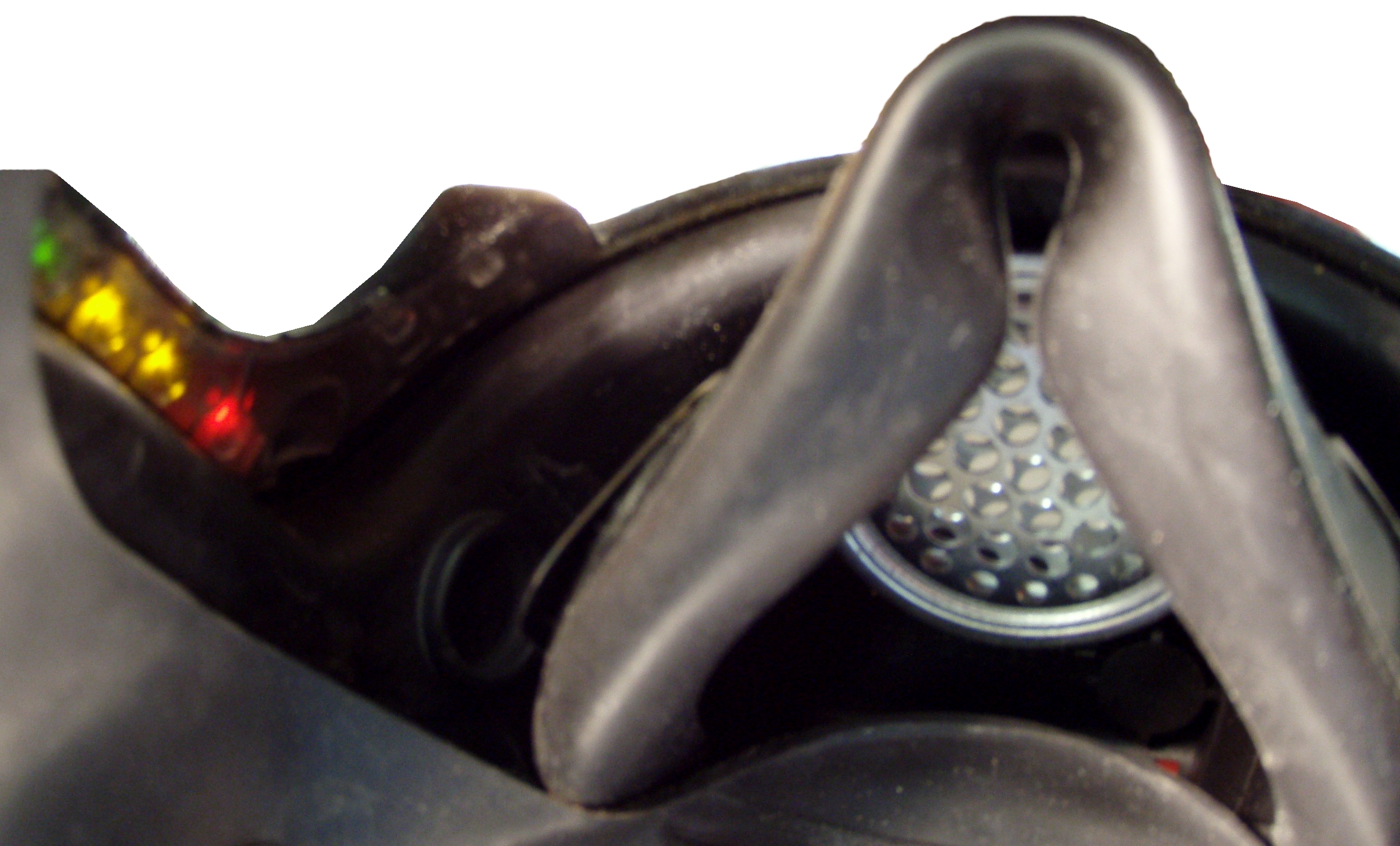 Interspiro Spiropass II Integrated PASS
The SPIROPASS II accessory is connected to the extra air outlet of the Spiromatic regulator and is automatically activated by air pressure from the SCBA. A pre-alert signal sounds after 18-30 seconds of lack of motion. The unit goes into Alarm after approximately 35 seconds without motion.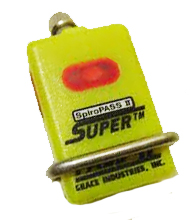 Interspiro Rapid Intervention Crew (RIC)
The new RIC (or UAC, Universal Air Connection) allows for rapid refilling of cylinders under emergency conditions. Mounting the Interspiro RIC directly to the first stage regulator makes for a simpler, more reliable design.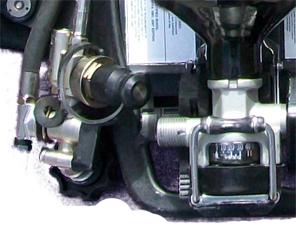 ISI Voice Amplifier
The Control Console monitors cylinder pressure and provides the industry's clearest Voice Amplification System as a standard feature.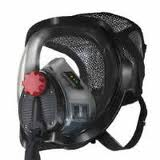 ISI Heads Up Display
When seconds count, information may be the one thing that can keep you safe. The 5-light display eliminated the necessity of stopping whatever you were doing to check a gauge. Cylinder air status, PASS status, radio communication and low battery are monitored just by glancing at the non-intrusive lights inside the facemask.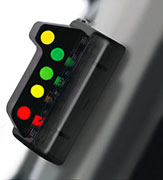 ISI PASS Pre-Alarm Integrated PASS
The PASS automatically activates upon pressurizing the pneumatics. In Pre-Alarm, the heads-up display will activate an alternating red/green light sequence. The constant flashing locator lights on the backframe will also go into pre-alarm and flash more rapidly.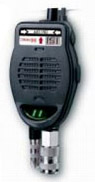 Cases
Hard Case - Black molded, high-density polyethylene cases are ideal for carrying and storing Air-Pak Fifty SCBAs. Cases have a two-piece hinge and replaceable latches.

Storm Case - Storm Cases are designed to safeguard even the most delicate equipment in any situation. Built from Hardigg's HPX resin, Storm Cases are lightweight, watertight, virtually indestructible and guaranteed for life. Inside, multi-layered foam ensures that all your gear stays put during transport. And Hardigg's unique Press & Pull latches open easily for quick access, yet stay closed under impact.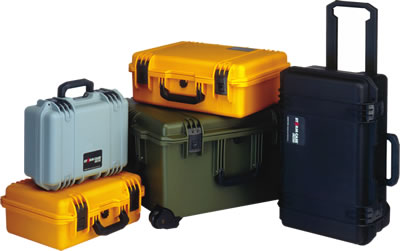 Mask Sacks
Designed to protect your SCBA Facepiece from damage during transportation,storage and handling. Available in Red, Blue or Black outer Cordura shell, inner shell - water repellent fleece.