How safe is your SCBA breathing air cylinder? "They're very safe," said Russ Kates, president, Dalmatian Fire Equipment. "They are extremely strong and built to withstand many times the pressure they are designed to operate at for firefighting, according to Department of Transportation (DOT) Standards."
Even with their strength and durability, carbon fiber and aluminum cylinders must be hydro tested every five years. At Dalmatian Fire Equipment, every SCBA (Self Contained Breathing Apparatus) and all of its parts undergo stringent quality assurance testing before being refurbished for sale. Before any equipment is sent to customers, all SCBAs are flow tested and SCBA cylinders are hydro tested to make sure equipment is operating properly and is safe for firefighting use.
Hydro Test
The hydro test, among Dalmatian's thorough list of SCBA safety and quality checks, is specific to breathing air cylinders. The company tests about 1,000 breathing air cylinders a month in one of the country's most efficient hydro testing facilities, according to the Department of Transportation (DOT), which oversees national standards and inspections for hydro testing.
"We take our jobs seriously," Russ said. "People's lives depend on our equipment. We keep that in our minds at all times in everything we do."
Hydro testing is designed specifically to test the strength of the cylinders, which hold the breathing air that flows through the SCBA. Carbon fiber cylinders (about 8 lbs.) are the most popular among fire fighters today because they weigh less than aluminum cylinders (about 19 lbs.). Breathing air adds about 3 to 8 lbs. depending on cylinder type.
Carbon fiber cylinders have a 15-year life from their manufacture date. "Customers need to be aware of this too when they are sourcing refurbished SCBAs and their cylinders," Russ said. Aluminum cylinders are good to use until they fail a hydro test.
"All cylinders sold by Dalmatian are sent to customers with a fresh hydro test, so the customer doesn't have to hydro them for another 5 years," Russ said.
During hydro testing, cylinders are submerged in a tank of water and put under extreme pressure. The test measures the expansion of the cylinder by the displacement of water. Carbon fiber cylinders have various pressure capacities, including 2,216 psi, 3,000 psi, 4,500 psi and most recently 5,500 psi in the 2013 models. The hydro test measures pressure parameters beyond the cylinder's pressure capacity to ensure no weakness or flaw exists. If they fail hydro test, they are destroyed, so no one can accidently use the unsafe cylinder.
They are made to withstand well beyond the pressure they hold," Russ said. "They won't rupture until the internal pressure approaches about 20,000 psi.They are very safe."
Photo of exploded cylinders at 20,000 psi. These tests were conducted at a scientific research lab in partnership with Dalmatian Fire.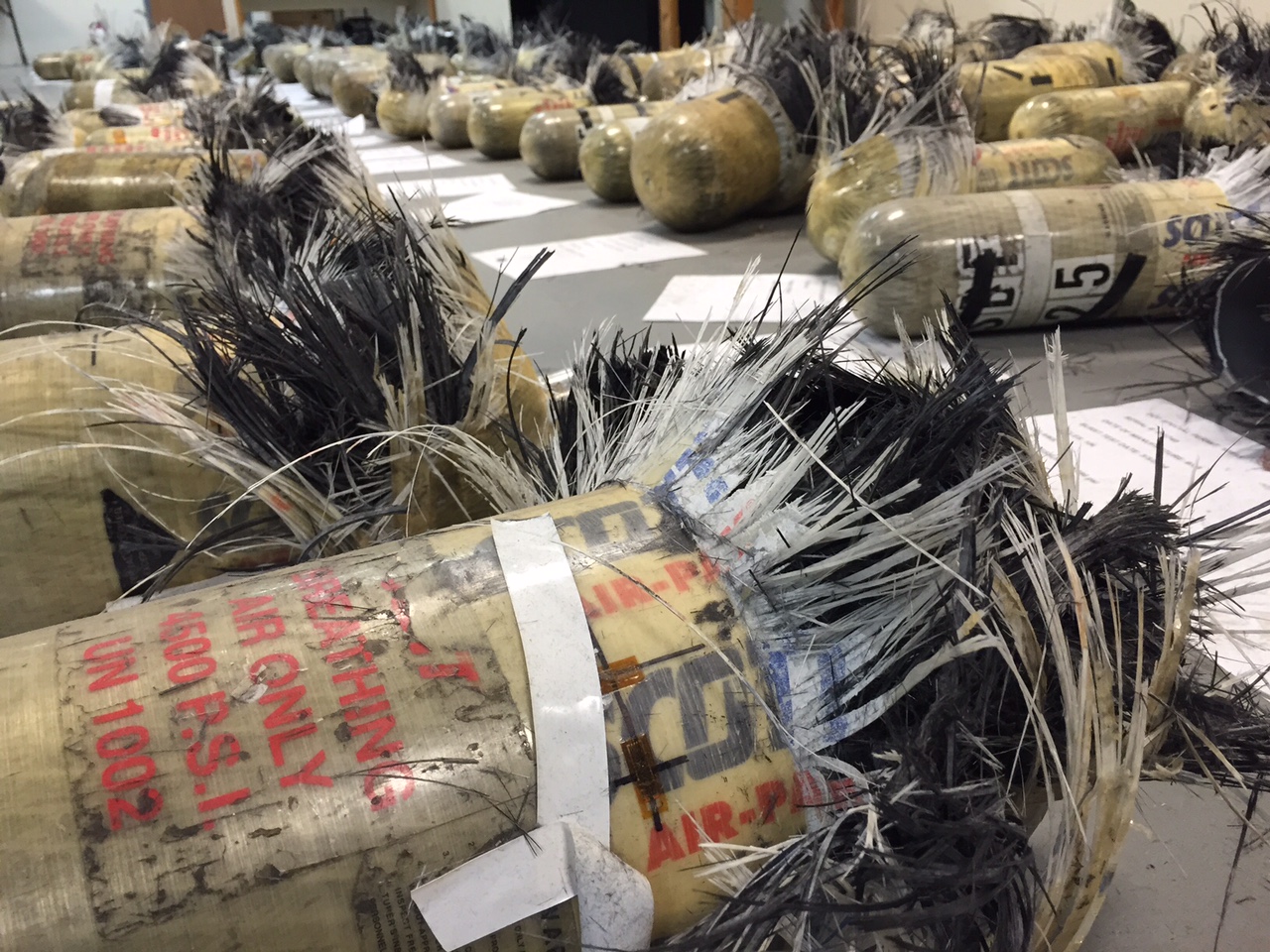 Testing Safety
Cylinder failures during hydro tests are rare. To ensure safety, the water tank is surrounded by a steel sleeve to protect the technician during testing. Dalmatian's attention to detail and record keeping were commended as exemplary by DOT inspectors who assess hydro testing facilities annually.
When cylinders pass the hydro test, they are put through a cylinder dryer where they dry completely in about 15 minutes. The dry cylinders are then fitted with a valve. Valves get new OEM O-rings and are also quality tested to ensure no leakage. The cylinders are shipped empty of breathing air. Customers fill the cylinders with air to get them ready for SCBA action.
Firefighters and rescue workers can use Dalmatian Equipment with confidence. Dalmatian Fire Equipment's customer care and quality assurance testing ensure safe, dependable SCBAs…helping keep first responders and those they rescue safe.